About
It's difficult to pinpoint precisely when Post Impressions was conceived, though I think I've had a twinkle in my eye since the day I spied a little mound of beautifully coloured vintage stamps on my philatelist husband's desk. I casually enquired what he was doing with them and he replied they were surplus to requirements. The magpie in me gave a silent squeak of joy. I felt sure I could create something amazing with them. 
I suppose postage stamps have always held an appeal from being a small child helping to stick the richly coloured festive Christmas stamps on cards.  On the weekly trips to the local post office with my gran to collect her pension, I was fascinated with the thumping of metal stamps on pension books, and the speed with which the correct value postage stamps were ripped from a huge book containing so many different coloured stamps of varying value. When I was given a toy post office for Christmas, I was in heaven!
It was actually by chance rather than design really that many years later I became one of those tellers at a Crown Post Office in Nottingham. That was when I began to appreciate how big stamp collecting was. There was a desk dedicated to solely to philately.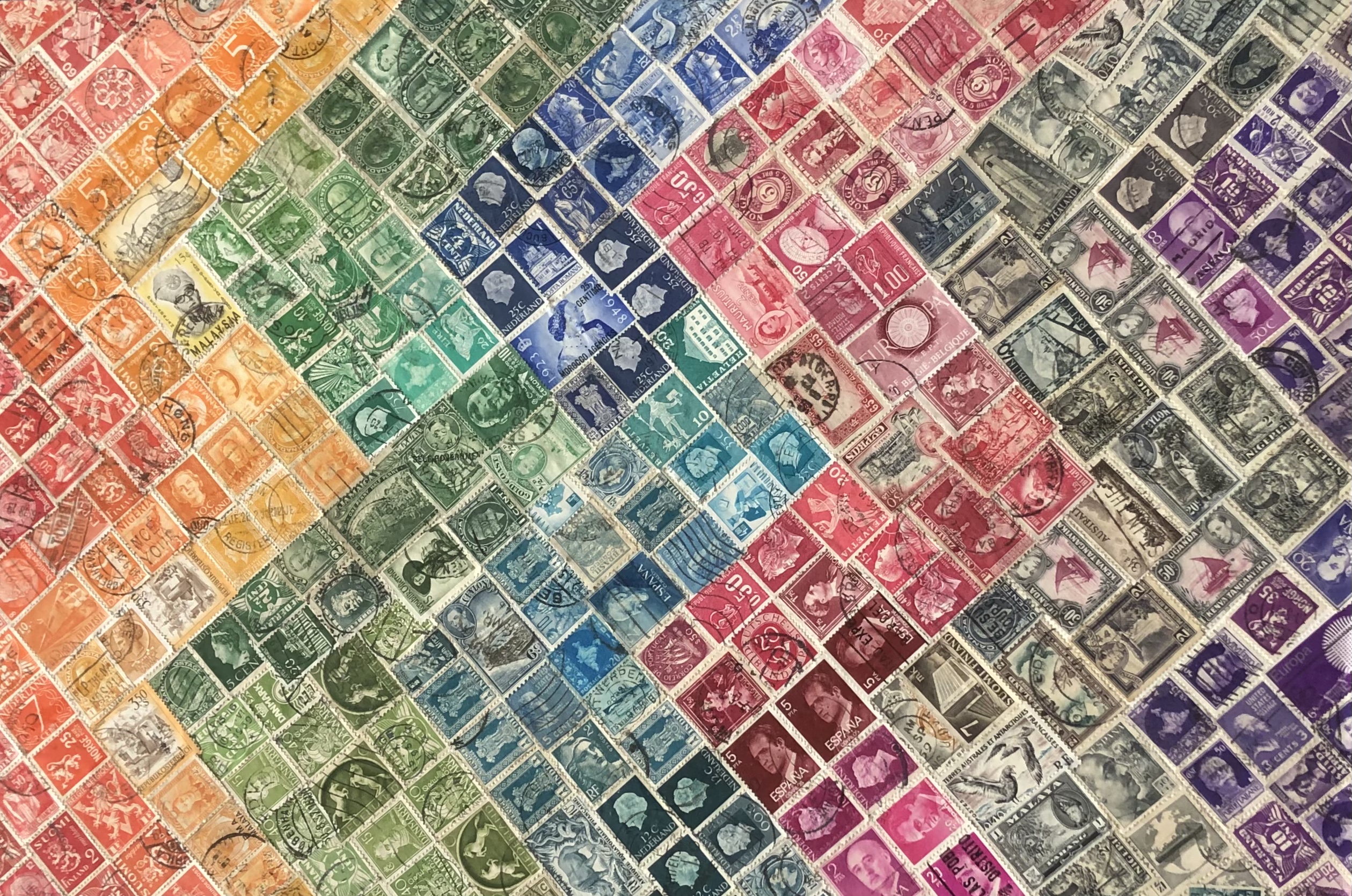 And so, that little mound of stamps became mine. And true to form, were hidden away in a small box for many months (ok maybe a couple of years) as a full time job and busy family life left little time foe creative pursuits. Then lockdown happened. The opportunity to really do something with them! The small mound is now a colourful paper hillock just begging to be sorted into colourful piles. This I do, and make a rainbow collage which was more therapy then creativity if I'm honest. All this time on my hands but my creative mojo has packed up and taken a lockdown breaking holiday and deserted me. Besides, there's baking to be done, Joe Wicks needs punters (hmmm) and the sun is shining...
Fast forward and life is getting busy again and those odd free hours when I can get creative become more valuable again, and the prodigal mojo returns. By now I've amassed quite a large collection of 'surplus' stamps, but time is again at a premium.

Finally, one day I make some time, put some music on, and armed with a small bamboo knitting needle (no idea why I bought them as I hate knitting with anything other than steel) and a Pritt stick I start playing around with shapes.
Mandala type shapes emerge and I decide to make a house warming gift for a friend who has been on the frontline during covid, and was exhausted by it all. I added an inspirational quote, and so it begins. 
My designs are still evolving, as I try new base materials and themes, but I want to stay true to the rolled stamps as far as possible, as this is what sets my work apart from other 'stamp art' on the market.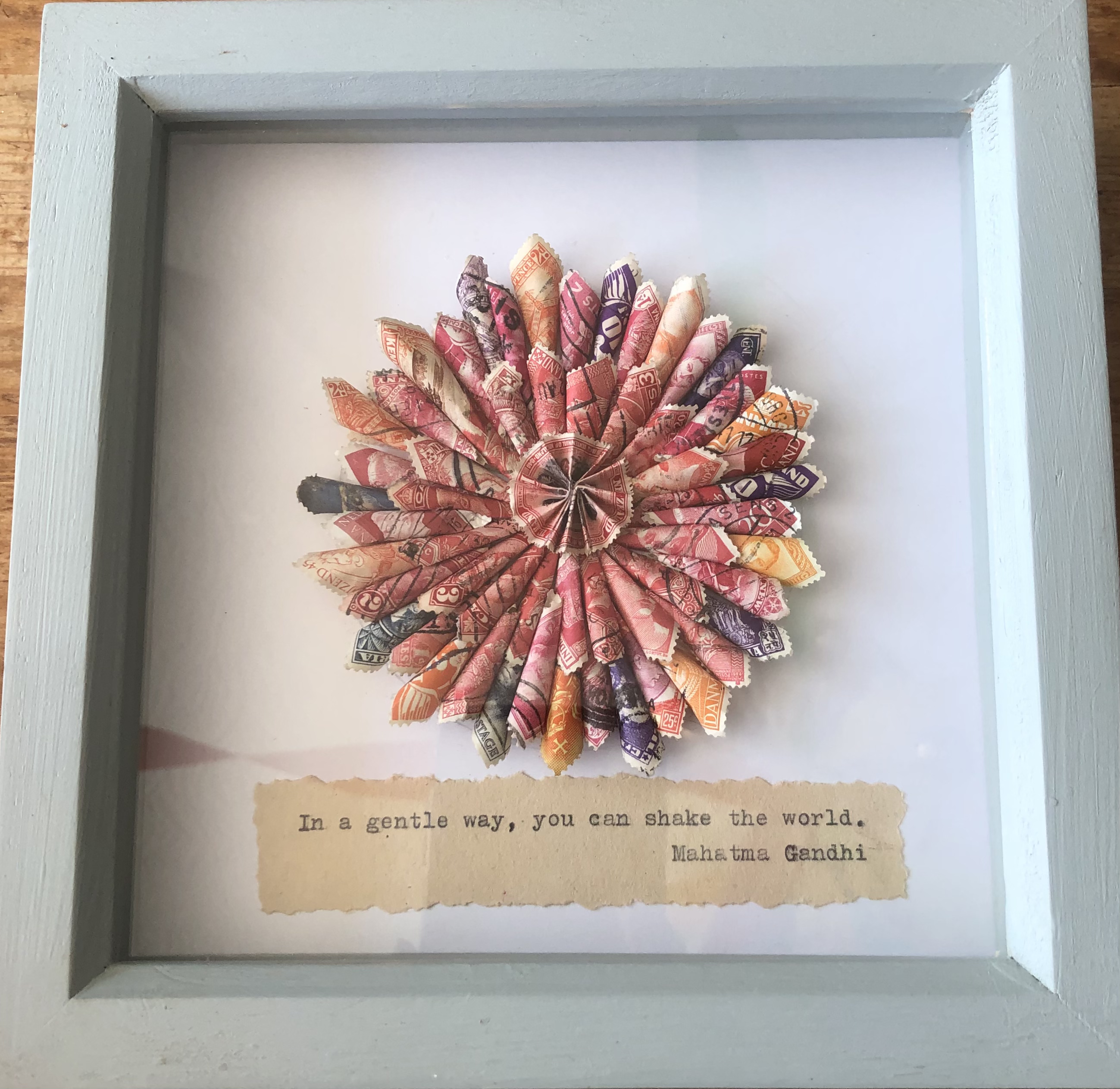 Not a great image, but I had to include it for posterity. 
On the subject of images, they're so hard to capture owing to the shadow of the deep box and reflection on the glass. I'm working on it so please bear with!

Thank you you for reading and I hope you enjoy browsing my store. 

Kate.